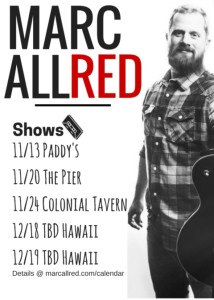 I've lined up a number of great shows for the next few months that I'm really looking forward to.  I played for the first time at a great Irish pub in Stafford last month called Paddy's and they've asked me back and I couldn't be more excited to spend time with the great people at that venue again.  I'm going to be in Stafford, Culpeper, and Fredericksburg Virginia in the month of November.  But I'm most excited that I'M GOING HOME to Hawaii in December!!
In 2012 I left Hawaii and essentially "broke up the band" when I left my band Upstanding Youth without a singer/guitar player.  While they have "considered" other front men like Josh86 from Black Square or Fernando from Pimpbot, leaving Hawaii and Upstanding Youth has left an empty space in my soul and I can't wait to see them again and play music for the friends and fans back on the island.  We are also hoping to release some new music while I'm there.
See the flyer and my calendar for more details.  Hope to see you on the dance floor singing along in December 🙂
Much love!