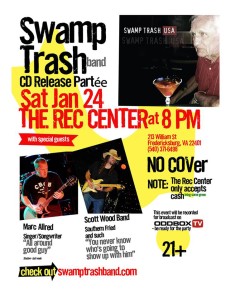 I'll be opening for my friends Swamp Trash at their new CD release party this Saturday, 24 Jan 2015.  I go on at 8pm.  See all the details HERE.
When we moved to Stafford, VA I felt like I lost my address book because we moved into a place where I didn't know anyone!  I used to know all the mechanics in town, musicians, cops, and cooks.  In Hawaii, I knew all the venues where I could play with my band, I knew all the managers, I knew all the other bands on the island, and I felt like I had a really good finger on the pulse of the music scene.  And then we moved.  It's taken a lot of hustle to even begin getting to know bands and venues in the area, but luckily I stumbled across the band Swamp Trash.
Swamp Trash says that they are "all military veterans, have raised families, travele...